Type: Article
Published On: April 18, 2021
Author: David I. Templeton, CFA, Principal & Portfolio Manager
Categories:
Author: David Templeton, CFA, Principal & Portfolio Manager
Earlier this month I wrote a post on the Dogs of the Dow and highlighted the better performance this group of stocks is generating this year versus in 2020. One aspect of the Dow Dogs is their singular focus on dividend yield. Other dividend or income focused equity strategies are also performing better so far in 2021. The below chart compares four dividend focused strategies to the S&P 500 Index.
Image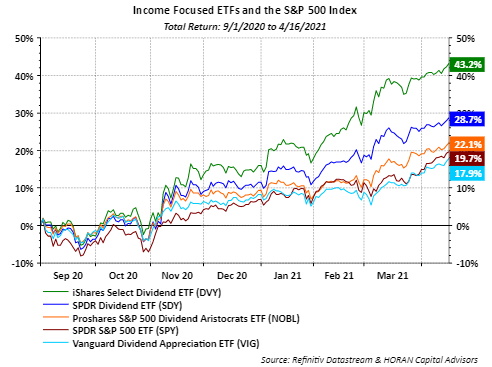 The top performing strategies detailed above are the iShares Select Dividend ETF (DVY), SPDR Dividend ETF (SDY) and the Proshares S&P 500 Dividend Aristocrats ETF (NOBL). The one ETF not keeping pace with the S&P 500 Index is the Vanguard Dividend Appreciation ETF (VIG). Compared to the other income equity ETF's Vanguard's Dividend Appreciation ETF has a higher weighting in technology stocks and the technology sector is up only 10.2% this year versus the financial sector up 20.7% and industrials sector up 14.5%, both larger weightings in SDY, DVY and NOBL.
Certainly the equity markets have performed strongly off of the March 23, 2020 low with the iShares Core S&P Midcap Index ETF (IJH) up 127%, iShares Russell 2000 Index (small cap) ETF (IWM) up 125% and the S&P 500 Index (SPY) up 90%. However, the below chart of the income strategy returns over the last five years shows remaining performance ground to be made up by these income investments, at least relative to the large cap space.
Image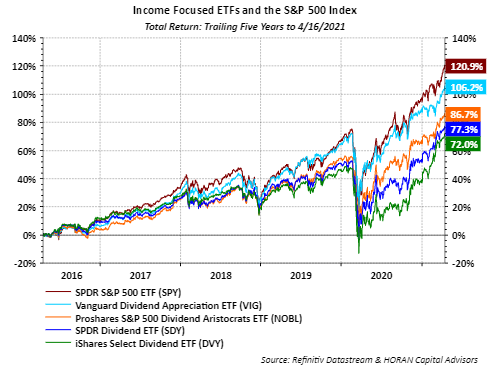 ---
HORAN Capital Advisors, LLC is an SEC registered investment advisor. The information herein has been obtained from sources believed to be reliable but we cannot assure its accuracy or completeness. Neither the information nor any opinion expressed constitutes a solicitation for the purchase or sale of any security. Any reference to past performance is not to be implied or construed as a guarantee of future results. Market conditions can vary widely over time and there is always the potential of losing money when investing in securities. HCA and its affiliates do not provide tax, legal or accounting advice. This material has been prepared for informational purposes only and is not intended to provide and should not be relied on for tax, legal or accounting advice. You should consult your own tax, legal and accounting advisors before engaging in any transaction.