Type: Article
Published On: April 8, 2021
Author: David I. Templeton, CFA, Principal & Portfolio Manager
Categories:
Author: David Templeton, CFA, Principal and Portfolio Manager, HORAN
The  American Association of Individual Investors reported a jump in bullish sentiment to 56.9%. This is the highest bullishness level since the reading reached 59.7% for the weekly reporting period ending January 4, 2018. As the below chart shows, higher levels of bullishness have a tendency to occur near market tops; however, the pullbacks can be brief or short lived. Also, bullish sentiment can get to higher levels as happened in 2003 when bullishness was reported in the low 70 percent level.
Image
For comparison purposes, the below chart shows bullishness levels during several prior market bubble periods. Readers should note though, sentiment alone is not necessarily a good timing tool; however, it can provide important insight into investor psychology.
Image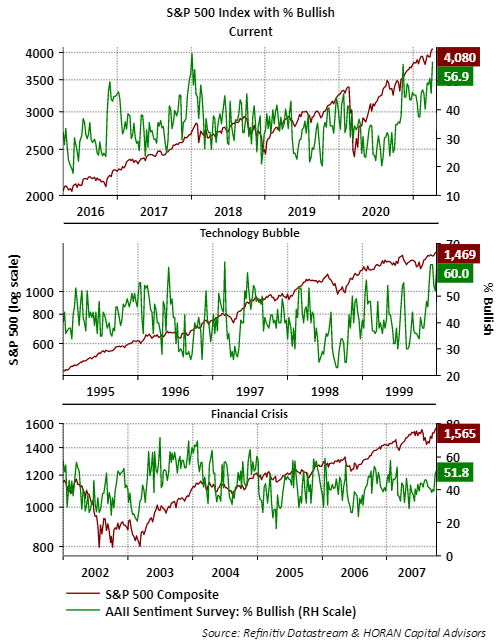 ---
HORAN Capital Advisors, LLC is an SEC registered investment advisor. The information herein has been obtained from sources believed to be reliable but we cannot assure its accuracy or completeness. Neither the information nor any opinion expressed constitutes a solicitation for the purchase or sale of any security. Any reference to past performance is not to be implied or construed as a guarantee of future results. Market conditions can vary widely over time and there is always the potential of losing money when investing in securities. HCA and its affiliates do not provide tax, legal or accounting advice. This material has been prepared for informational purposes only and is not intended to provide and should not be relied on for tax, legal or accounting advice. You should consult your own tax, legal and accounting advisors before engaging in any transaction.