Type: Article
Published On: April 10, 2021
Author: David I. Templeton, CFA, Principal & Portfolio Manager
Categories:
Author: David Templeton, CFA, Principal and Portfolio Manager, HORAN
Earlier this week the February Job Openings and Labor Turnover Survey (JOLTS) was released showing job openings continued to increase. For the February period job openings equal nearly 7.4 million and is approaching the peak job openings level of 7.5 million reached in late 2018. This represents a positive sign that economic activity is increasing and businesses are experiencing increasing demand; hence, the need for more employees.
Image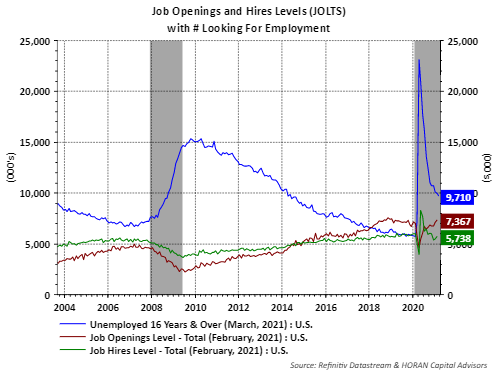 In another sign of a healing job market, the quit rate stands at 3.3 million. Employed individuals generally do not quit a current position and seek employment elsewhere if they believe the job market is weak. Also included on the below chart with the quit rate is the number of unemployed individuals per job opening. This low level of 1.35 unemployed individuals per opening is low and is representative of a tight labor market.
Image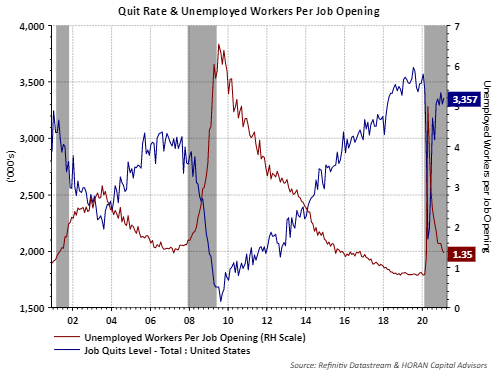 In conclusion, admittedly too many individuals remain on the sidelines. Of the 22.4 million lost jobs in the three month period from February 2020 to April 2020, only 13.9 million have been regained. However, with more states reopening and some states moving to no operating restrictions, the job market continues to improve. The positive signs reported from the JOLTS data is encouraging and supports the view the U.S. economy continues to expand.
Image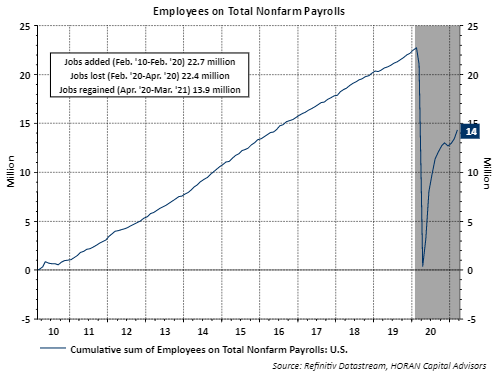 ---
HORAN Capital Advisors, LLC is an SEC registered investment advisor. The information herein has been obtained from sources believed to be reliable but we cannot assure its accuracy or completeness. Neither the information nor any opinion expressed constitutes a solicitation for the purchase or sale of any security. Any reference to past performance is not to be implied or construed as a guarantee of future results. Market conditions can vary widely over time and there is always the potential of losing money when investing in securities. HCA and its affiliates do not provide tax, legal or accounting advice. This material has been prepared for informational purposes only and is not intended to provide and should not be relied on for tax, legal or accounting advice. You should consult your own tax, legal and accounting advisors before engaging in any transaction.